Mercedes' Landscape™ Repair Calls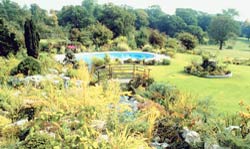 When you need repairs or other services to your landscape "now," Mercedes' Landscape™ are the landscape experts service to call.

Mercedes' Landscape™ repairs landscape and sprinklers for the high quality consumer. We use the latest materials, procedures and materials available. All our repairs are done with the aim of low maintenance and safety. Our many years of experience assure you that we will get the job done efficiently while your time is freed up to enjoy relaxing and exercising with your family. When you call on Mercedes' Landscape™, you can be at ease with the knowledge that we will get the job done right.
We are available for scheduled repair calls or emergencies.
To make it easier and faster for you, we have developed a simple Repair call/Service request. All you need to do is complete the information, tell us when you would like us to do the work, and we'll get right back to you to confirm exactly when we'll be there. To request a service or repair call, just complete and submit the information below.