Mercedes' Landscape™ Weekly Service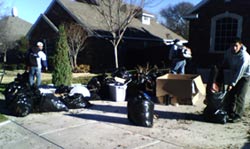 Mercedes' Landscape™ are specialists in maintaining landscape in perfect condition through our weekly service program. With our service you will know that your landscape will always be clean, maintained and be attractive.
During each weekly service visit we do all of the following:
Cut the grass
Edge the property
Blow all debris
Skim top of pool of grass debris
Check sprinklers (if installed)
Trim bushes at additional cost (per request or contract)
Report any problems to homeowner or property mgmt.
Add mulch or flowers to beds at additional cost(per request or contract)
Lightly wash deck as needed (hose must be available).
To make it easier and faster for you, we have created a Weekly Service start-up form. All you need to do is complete the information, add your special requests, need and/or comments and click "send" and we'll finalize everything and begin your service. We'll call you to discuss specifics as needed and then you can leave the work to us and start using your time to enjoy your landscaped areas.